Invitation to Anglican 4th Day (A4D)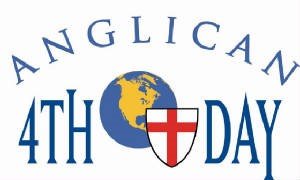 The Anglican 4th Day weekend is based on a program of spiritual renewal initiated by the Roman Catholic Church in Spain in the 1940's. The Roman Catholics use the term Cursillo, which means short course or "little study." The Anglican 4th Day works to form groups of men and women committed to living the Christian life in union with the Living Lord and to share Christ with those they know and love.
The three day weekend provides a living experience, meeting Christ and meeting fellow Christians in a friendly, and non-threatening atmosphere. It is a joyous time, and can be a life enriching experience. The next retreat will be August 10–13 at Luther Springs in Hawthorn, FL, and will include men and women. The lay rector of the weekend is Susan Porter of Christ the King Anglican Church in Ocala, FL (where team meetings will be held).
For more information, contact Debi Johnson.